The SECG is an independent EMC compliance facility, established by four Sussex based companies to provide flexible cost effective EMC testing for EMC precompliance and self-certification purposes.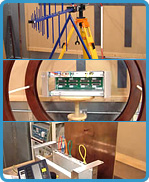 Over the last ten years our EMC testing facility has proved to be an invaluable resource to group companies and third party customers alike.
Although we are not a Notified Body, our EMC test equipment is calibrated and traceable to National Standards. The results of our facility are used for our own EMC Self Certification, so you can be rest assured that we follow best practice.
The support of the group companies allows us to invest in equipment which would otherwise be outside of the budget of a similar facility. For instance, we operate a CISPR 16-1 compliant measuring receiver to achieve accurate traceable results for EMC emissions, a service usually restricted to Notified Bodies. Our spectrum analyser provides useful quick look snap-shots for development work.